Top Ranked Social Media Marketing Agency in Kolkata
Driven by enthusiasm, diligence, and sincerity, Team NullStack is your stairway to success as we are the Best Social Media Marketing Company in Kolkata.
 
As there is a whopping 87% increase in Social Media Usage amid lockdown (Survey by BusinessToday), do you want to lose your future customers or buyers who might be scrolling on one of these platforms right now? No, right!
   
With as many as 3.5 Billion people online, the scope for your business to flourish online is infinite. Now people are looking at online options for even small things like dairy products, at-door hookah service, at-door laundry service, online shopping, etc. This is the time to gain your customers online and take your business to the next level. 

Being amongst the Top Digital Marketing Companies in Kolkata, we also provide weekly, monthly, and campaign-wise reports and constant monitoring of the page followers and likes for paid social media marketing campaigns.
Avail the Very Best of Social Media Marketing Services in Kolkata!

NullStack Technologies is a leading Social Media Marketing Agency in Kolkata offering the best quality SMM Services in Kolkata at affordable prices. The SMM service made available by NullStacks benefits brands providing a direct channel for customer insight, a finger on the pulse of what customers think of the competition, and a means to manage reputation. We offer effective and efficient social media marketing services that will increase the authority and credibility of our clients' businesses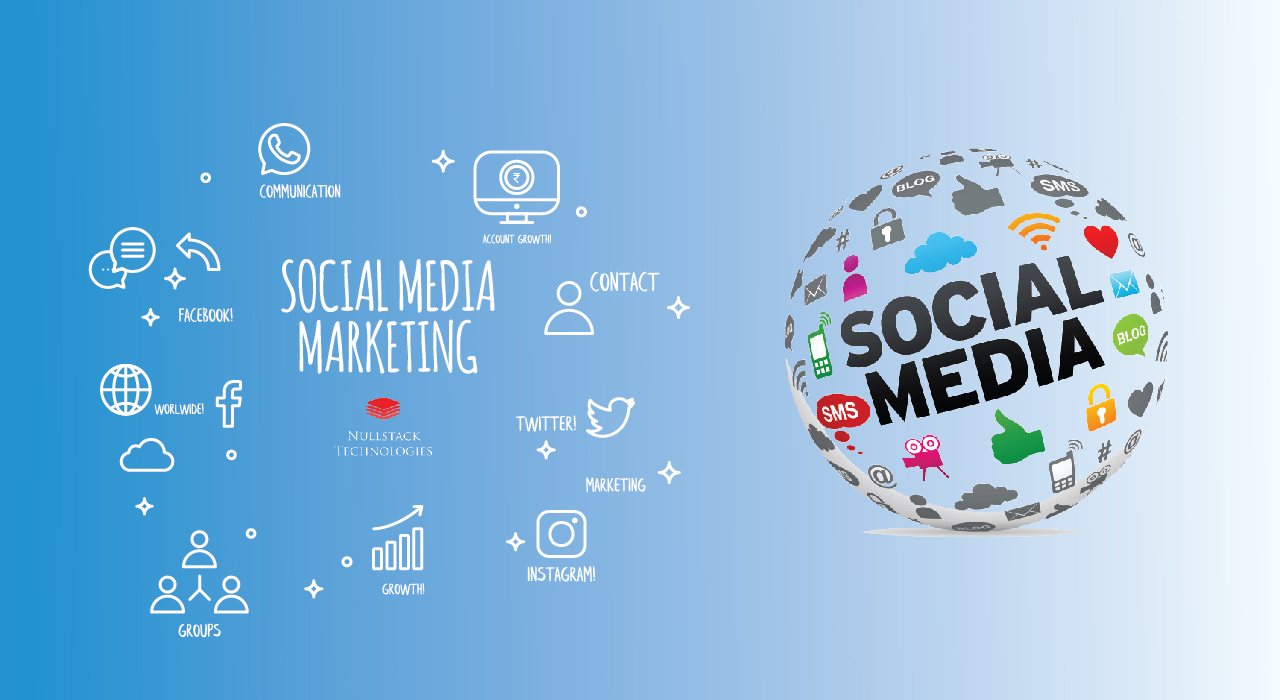 Facebook Marketing Services
80% of all Internet users use Facebook, making it the largest social media platform in the world, it offers businesses not merely a large audience but well-saturated demography of target consumers.
Along with our Facebook Marketing Services, which is one of the best with the right targeting, using the best ad format, messaging and off-facebook user experience making it the perfect recipe for your success!
Instagram Marketing Services
If you have not marketed on Instagram yet, then you should start right now. It is inarguably one of the most popular social media platforms, where you can advertise your products and services.
Whether you are a gym, eCommerce store, hotel & restaurant, or any other business, Instagram helps your business reach people who are actual. Get in touch with us to get down to the nitty-gritty of Marketing your business online!
Pinterest Marketing
Pinterest is by far the best platform to drive website traffic. Gone are the days when it was used to find home decor ideas or recipes. People are now using this platform to find photos of the brand's products.
You can share graphics and run advertisements to find new buyers, who are interested in your products or services. We create a Pinterest marketing strategy for your business that will help you to drive more traffic, leads & sales.
Youtube Marketing
YouTube is the second largest search engine with over 2 billion users and is absolutely the go-to platform for marketers. 88% of marketers have found success through Marketing on Youtube. The reason for this being, 72% of people videos over text for marketing information and rely on explainer videos to research about product and services of their interests.
Our team curates content and strategies which are relevant and work best for youtube.
Linkedin Marketing
Linkedin is one of the topmost platforms for generating leads. There are over 450 million business professionals on Linkedin worldwide for good reasons. You should not skip this medium if you are seeking to improve your brand awareness. Our team has expertise in Linkedin Marketing with services that are sure to take your business to the highest potential! 
Twitter Marketing
One of the top platforms with 145 million active users, Twitter is the platform for your business to be on. It is a place where all the latest trends and conversations happen, 81% of Twitter users find Twitter more influential on their purchase decision than TV, and 52% claimed to have bought products they saw on Twitter. This is the power of Twitter, now it's up to us to make your business "viral".
Why Choose NullStack As Your Social Media Marketing Partner Company in Kolkata?
Understanding your target audience, competitors

Providing you with the most innovative designs to help you connect well with your target audience

Designing strategies to boost your conversion rate

Prompt Handling of your Social Media Accounts / Pages

We never copy ideas and always walk the extra mile to represent your business ideas in a fancier way

Least Turn-Around Time: NullStack creates the "Social Media Presence" your business deserves!