Google Local Listing Optimization Service
---
Optimizing Local Listing not only increases visibility but also ensures more website traffic, leads and conversion by keeping the strategy relevant to the base of local customers.
What is Google Local listing Optimization and how does it help businesses
Local Listings or Google My Business service offered by Google is a simple and effective tool to establish online presence for businesses. It is a very useful way to attract customers through search and maps. Most people search for their needs online and listing helps in directly bringing customers to the doorstep ofbusinessby displaying information like, operational hours of business, address and contact details. 
Who Needs Google Map Optimization Service?
Every business needs to have a presence on Google Maps but Google Map Marketing is especially beneficial for local businesses and start-ups. As smaller businesses essentially operate on a regional level, local SEO makes  it possible for businesses to appear on Search Engine Result Pages of a specific location, Providing targeted visibility to the business and getting the attention of immediate leads.  
Lets Create Your Google Map Marketing Strategy:
Optimizing Google My Business Profile -We strategically optimize your Business Profile to rank higher on Google Maps, making it possible to appear on the first page of google search results. 
Uploading Posts With Respect To Your Products & Services -We curate category specific content in visual and textual format, along with consistent uploads to keep listings up to date, in order to increase visibility and ranking.
Managing Reviews - We ensure professional handling of every review by thanking and addressing complaints in case of unfavourable reviews. 
Improving Your Business Profile With Local Searches -We optimize your business profile with local SEO, by using locally relevant keywords and focusing on providing content relevant to your base of local customers, this makes the business appear higher in local searches.
Running Google Map Paid Ads -By using Google ads we help businesses to target people in the immediate area and turn leads into instant customers. 
Why Nullstacks For Google Map Marketing Service?
If you are looking for a trusted partner that would help you in taking your business to the next level then you are at the right place. Here's why - 
Assurance of Quality - We have a knack for excellence and only offer services that we know we are the best at.
Team of solution providers - Our team of highly qualified individuals are competent to solve all the problems one might face in marketing their business online. 
Quick Correspondence - Our team is alw

ays ready to provide constant follow up and answer all your queries big or small. 
Trustable Partners - We aspire to build nurturing relationships with all our clients by treating them with utmost sincerity and making their interests our priority.  
Result Oriented Approach - We follow a result oriented approach and keep up with our clients to track the growth and challenges they might face.
Custom Treatment - From our experience of working with diverse industries, we create plans specific to the needs of your business and the region in which the business operates.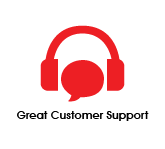 Highly Rated Customer Support

Highly Rated Customer Support

Highly Rated Customer Support

Highly Rated Customer Support

Highly Experienced Team

Highly Rated Customer Support

Highly Rated Customer Support

Highly Rated Customer Support